JumboSpot/ZumSpot
Contents:
[Top]
[Home]
---
Related Pages:
[Top]
[Home]
---
JumboSpot Official Websites
JumboSpot/ZumSpot:


http://jumbospot17.blogspot.com

The Facebook Group for the ZumSpot can be found here:
Facebook Page - mmdvm zumspot and MMDVM-Pi (jumbospot) DMR repeater construction building



[Top][Home]


---
JumboSpot LED status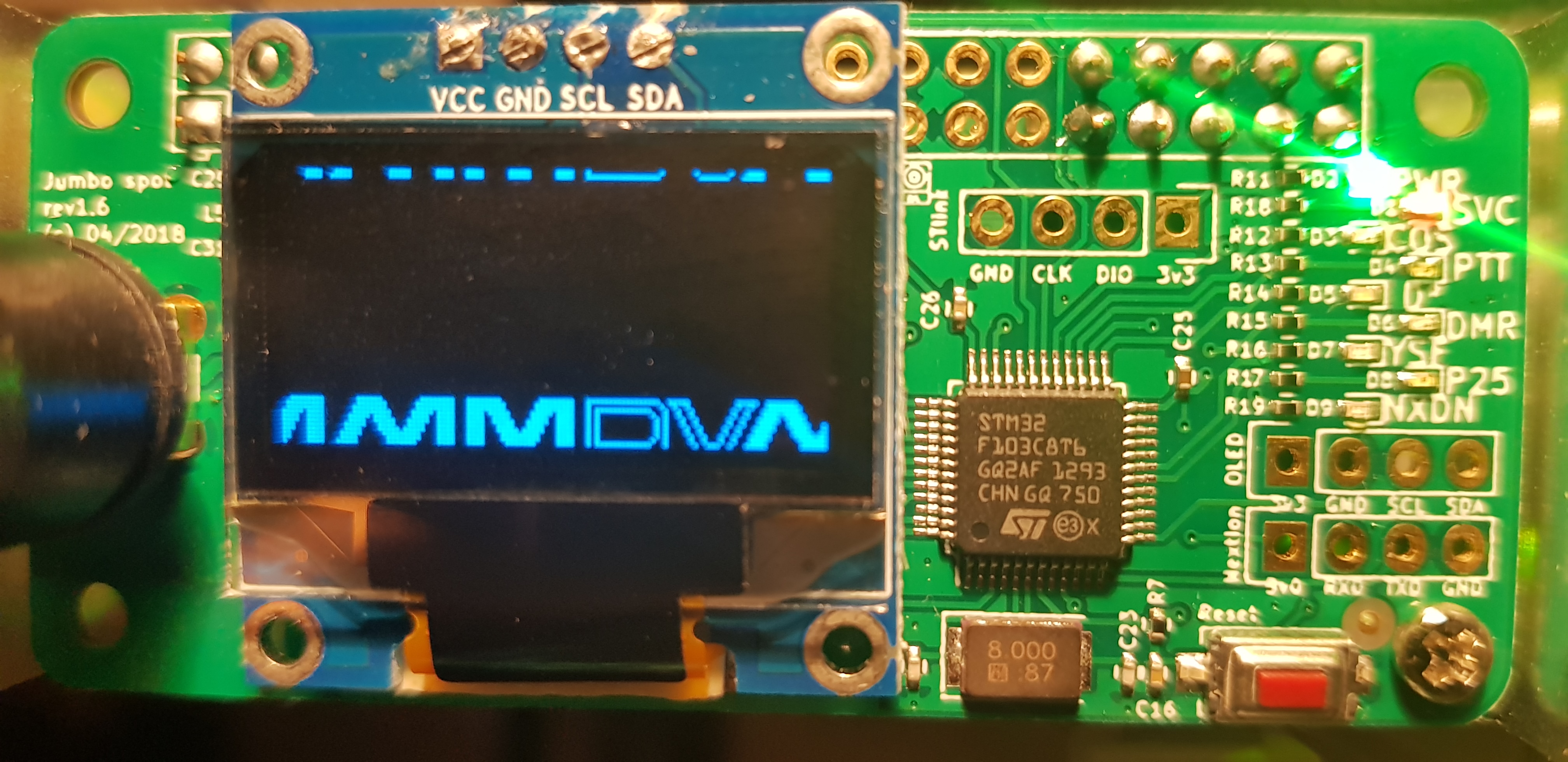 JumboSpot LED on daughterboard LED status on my Jumbo spot, rev1.6 04/2018.
LED
Label
Color
Action
Description
D1
COS
Yellow
On while PTT on
Carrier on Sense (Squelsh)
D2
PWR
Green
Steady
Power is on
D3
SVC
Red
Slow Flashes Slowly
After RESET button activated or power cycled flashes with a period of
about two seconds for about a minute while connecting to the host.
JumboSpot will not accept PPT transmissions in this phase.

D3
SVC
Red
Flashes Quickly
Indicated in service (connected) to Host.
(Continues to flash during "Apply Changes" which restarts software services)
D4
PTT
Red
On while receiving packets
D5
D*
Green
DStar
D6
DMR
Yellow
Steady for 20 seconds
On PTT yellow on for 20 seconds. I guess it means I am transmitting on DMR.
I assume the 20 secs is the time I should have the reflector locked to my ID.
How does it know this or is it just a counter? It stays on long after the
red transmit and the green receive led has expired on my transceiver.
D7
YSF
Blue
Yaseu System Fusion
D8
P25
Red
D9
NXDN
Blue
[Top]
[Home]
---
JumboSpot iRTQ Mini - a MMDVM Chinese Copy
This is a Ebay/china MMDVM "copycat" product:
"32Bit MMDVM Hotspot Module+OLED Antenna Support P25 DMR YSF+Raspberry"
Detail Product Description:
Jumbo-SPOT-RTQ is a completely self-contained digital hotspot supporting DMR, Dstar, P25 and System Fusion communications. Fully assembled and tested in a ruggedized aluminum enclosure. All that's required for operation is a mini usb (android phone's cable) power source and a WiFi based internet connection. Pi-Star Digital Voice Software pre-loaded and easily upgraded via software.

Product Features:
- Supports PI-STAR's web based digital voice dashboard and configuration tool
- Supports all four digital amateur modes DMR,D-Star,P25 and System Fusion
- Built-in WiFi: 802.11b/g/n
- Built-in OLED system status display indicating Mode,Talk Group and Call Sign
- Built-in LED indicators for status of Power,PTT,COS and Mode
- Console port SSH 22 for root level access to the operating system
- Quad Core A7 1.2GHz Processor,512mb DDR3 RAM and 8gb TF Card
- Pocket size aluminum enclosure Features: · High performance 32-bit ARM processor
· Fully tested
· Supports DMR, P-25, D-Star and System Fusion (YSF)
· Onboard LEDs to show status (Tx, Rx, PTT, Mode)
· Up to 10mW RF power

SMA antenna connector, UHF antenna included
· Mounts cleanly on all current Raspberry Pi's including the Pi Zero
· The firmware is pre-loaded and is easily upgraded via software.
Please do not upgrade the firmware by yourself
· Open source 3D printable case available
​Support and tested with PI-STAR

UHF420-450MHz ,VHF 144-146MHZ test frequency 439.600MHZ,


Specification
High performance 32-bit ARM processor
Supports DMR, P-25, D-Star and System Fusion
Onboard LEDs to show status (Tx, Rx, PTT, Mode)
Up to 10mW RF power
Test ID 460xxxx, test frequency 439.600MHZ, test mode DMR, test WIFI: TZB/13902982913
Colour: silver
Material: Aluminium Alloy
Package Contents:

1 * OLED display
1 * raspberry pi zero
1 * MMDVM hotspot board
1 * 8G TFT card
1 * Alaminium case
1 * 433Mhz antenna
[Top]
[Home]
---
Connecting an OLED Display
NOTE: If you intend to solder an OLED display to the JumboSpot beware that some OLED pin arrangements are GND, VCC, SCL, SDA. The OLED's that I have here have this arrangement. Be sure your Vcc (Voltage) and GND are not reversed before you install and solder.
Source:http://www.hagensieker.com/blog/page/?post_id=99&title=jumbospot-dmr-hotspot This article discusses the installation of an OLED display http://hvdnnotebook.blogspot.com/2018/06/mmdvm-jumbospot-board-mods-you-may-need.html

http://radioaficion.com/news/jumbo-spot-mmdvm-review/"

[Top][Home]


---
Rodger Clarke's Zumspot Build
Rodger Clarke's Zumspot Build:
BUILD.md
Source:github.com/juribeparada/MMDVM_HS.git



https://github.com/rogerclarkmelbourne/Arduino_STM32/tree/ZUMspot

[Top][Home]
---
ZUMspot/Pi-Star Bring-up and initialization
A 125 page powerpoint presentation for ZUMspot/Pi-Star Bring-up and initialization
Updated for Pi-Star v4.3.15 by Dave Hull, KC6N dhull1@san.rr.com:

ZumSpot_Pistar_KC6N_20180605.pdf (local)

Index of section in the presentation:
| Page | Section | Description |
| --- | --- | --- |
| 4 | Part I | Preparing a µSD card with a Pi-Star Image |
| 13 | Part II | Configuring your WiFi on a pre-Imaged µ-SD card |
| 20 | Part III | Bringing up ZUMspot/Pi-Star the first time |
| 41 | Part IV | Setting up your radios |
| 47 | Appendix A | Communicating with your ZUMspot |
| 51 | Appendix B | Setting the "Use DPlus for XRF" switch |
| 55 | Appendix C | Setting up HotSpot support on Brandmeister |
| 66 | Appendix D | Adding a Brandmeister Self Care Panel to Pi-Star |
| 75 | Appendix E | Updating the Pi-Star firmware |
| 85 | Appendix F | Updating the ZUMspot board firmware |
| 93 | Appendix G | Alternative bring up methodology |
| 95 | Appendix H | Cross Mode Operation |
| 105 | Appendix I | Controlling Pi-Star from your radio |
| 113 | Appendix J | Solving BER issues using offset adjustments |
| 117 | Appendix K | Customizing Pi-Star Dashboard Colors |
source: https://www.hamdigitaal.nl/download/algemene-informatie/ZumSpot_Pistar_KC6N_20180605.pdf

Also, WB2RCB - Digital Mobile Radio (DMR) pages are helpfull: https://www.wb2rcb.com/DMR1.htm

[Top][Home]


---
Glenn Lyons VK4PK
glenn@LyonsComputer.com.au
Ver:gnl20181203 - pre published v0.9